From: Bloomberg / Eric Martin / 11 de Diciembre de 2017
Mexico's top diplomatic and interior officials will visit Washington this week to discuss security cooperation with their U.S. counterparts at the same time that negotiators work to overhaul Nafta, according to four people familiar with the plans.
The visit by Mexican Foreign Relations Minister Luis Videgaray and Interior Minister Miguel Angel Osorio Chong to meet with Secretary of State Rex Tillerson and Homeland Security Secretary Kirstjen Nielsen on Thursday is a follow-up to meetings in May, according to the people, who asked not to be named before the agenda is made public. It's aimed at coming up with strategies to combat transnational criminal organizations, the people said. The press office of the Mexican Foreign Ministry and the U.S. State Department declined to immediately comment.
The meetings coincide with a sitdown by negotiators from the U.S., Mexico and Canada to update the North American Free Trade Agreement at the demand of U.S. President Donald Trump, who says the deal is responsible for hundreds of thousands of lost manufacturing jobs in the U.S. In an interview last month, Videgaray said that if the Nafta renegotiation encounters trouble, it could impact other areas of cooperation with the U.S. such as security and immigration. Mexico this year has seen homicides surge to the highest levels of this century, surpassing the previous record levels of the drug war from 2010 to 2012.
"It's good for Mexico that we cooperate with the U.S. on security and also on migration and many other issues," Videgaray said in the interview in Vietnam on Nov. 11. "But it's a fact of life and there is a political reality that a bad outcome on Nafta will have some impact on that," he said. "We don't want that to happen, and we're working hard to get to a good outcome."
Videgaray told reporters last month that Mexico is prepared for the end of Nafta if it can't reach a deal with the U.S. and Canada that benefits the nation. The three countries in August began talks to rework the pact after Trump pledged during the 2016 campaign to overhaul or end it.
This Week's Talks
The latest meetings to revamp Nafta, taking place at the Mayflower Hotel, will run through Friday, largely out of the spotlight. Cabinet-level officials aren't scheduled to attend for the second time since negotiations began, and the Trump administration is preoccupied with efforts to push through tax cuts by year-end and avoid a government shutdown. Videgaray's portfolio includes the broad bilateral relationship with the U.S., while a team led by Economy Minister Ildefonso Guajardo has been focused on the commercial details of the Nafta negotiation.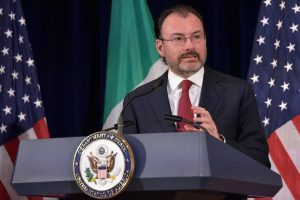 http://nrgibroker.com/wp-content/uploads/2017/12/videgaray.jpg
684
1024
admin
http://nrgibroker.com/wp-content/uploads/2018/02/nrgibroker-300x64.png
admin
2017-12-12 12:12:31
2018-02-01 12:52:17
Mexico to Discuss Security With U.S. in Parallel to Nafta