The Hill /  David L. Goldwyn / October 29
The proposed US Mexico Canada Agreement (USMCA) makes important, but incomplete, progress in securing an integrated North American energy market.
In terms of progress, the agreement preserves zero tariffs for trade in oil, gas and petroleum products across North America. It effectively locks in Mexico's historic energy reforms by ensuring that Mexico cannot reinstate restrictions on US investment in the oil and gas sector. A "ratchet" clause ensures that if Mexico decides to further liberalize the sector, then that higher floor becomes the new USMCA commitment.
While Investor-state dispute settlement (ISDS) mechanisms are weaker, they remain in force for certain "covered sectors," including oil and gas investments in Mexico and power generation and pipeline investments where the investor has a contract with the government.
These are all positive steps for North American energy security. Mexico and Canada provide the United States with the heavy grades of oil not produced domestically, helping US refineries produce gasoline at the lowest possible cost. Thanks to this relationship,  the United States is an efficient net exporter of petroleum products.
However, while this progress is laudable, it remains incomplete.
In the rush to conclude the agreement, effective protection for power generation investments like new wind and solar plants, refining and natural gas infrastructure, and power transmission lines were left out, perhaps inadvertently. Contracts for these investments are with state owned enterprises (SOEs) like Mexico's CFE and PEMEX, which do not now fall within the definition of "federal government" because they are not disposing of assets but signing a contract for service. These essential investments, in the gas and refined product infrastructure which carry US products to and through Mexico, transmission lines which carry US electricity south, and investments in power generation are not permitted to bring ISDS claims to enforce their rights.
This is an oversight, and a protection these investments should enjoy. Rather, the proposed agreement creates an uneven playing field as investors who do have a contract with the Federal government, say for exploration, are entitled to bring an ISDS claim for any of their businesses, while those who do not have such contract do not. The problem can be easily fixed by expanding the definition of federal government to include these wholly owned SOEs.
These (for now) unprotected investments are critical to North American energy security. They secure US exports of electricity and natural gas and assure the continued reliability of the North American electricity system. They are the lifelines which carry US exports to Mexico – currently our number one customer for natural gas and petroleum products.
Protecting investments in Mexico's electricity sector improves US national security by supporting Mexico's prosperity through a more resilient power system.
Finally, if US power sector investments in Mexico are not protected and thus potentially hindered or lost, China is certain to fill the gap.
Chinese investment in all forms of power generation, transmission, and distribution is rapidly accelerating throughout Latin America. According to a recent Atlantic Council report, cumulative flows of Chinese foreign direct investment in Latin America have reached $110 billion, with $25 billion in oil and gas investment, and $13 billion in electricity, utilities and alternative energy. China's State Grid has invested $7 billion in Brazil, through a combination of greenfield investments and acquisitions.
If the Mexican government is willing to offer these investments protections (and they are), and create a level playing field for American companies investing in our closest neighbor, the US should not object.
Fortunately, there is still time to correct the definition of eligible claimants as both sides ready the agreement for ratification.  With these modest steps, the United States, Mexico and Canada can improve the resilience of North America's energy system, and the US can simultaneously advance its economic and national security interests.
David L. Goldwyn is president of Goldwyn Global Strategies, an international energy advisory consultancy and serves as chairman of the Atlantic Council Global Energy Center Energy Advisory Group. He served as the U.S. State Department's special envoy and coordinator for international energy affairs from 2009 to 2011; he previously served as assistant secretary of energy for international affairs and as national security deputy to U.S. Ambassador to the United Nations Bill Richardson. He is a member of the U.S. National Petroleum Council and the Council on Foreign Relations.
The Hill /  David L. Goldwyn / October 29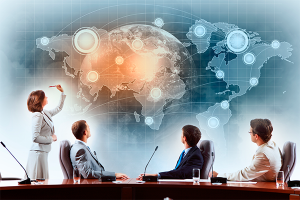 https://nrgibroker.com/wp-content/uploads/2018/10/Putting-the-final-touches-on-the-USMCA.png
400
600
Soporte
https://nrgibroker.com/wp-content/uploads/2018/02/nrgibroker-300x64.png
Soporte
2018-10-30 17:20:12
2018-10-30 17:21:02
Unfinished business: Putting the final touches on the USMCA